Acquisitions is a tiny little antique shop on route 202/Mt. Kemble Avenue in Harding, NJ. I have passed this cute shop every day on my commute to and from work for three years. I finally stopped in to check it out and found this unique handpainted Bavarian porcelain set of dessert plates, cups, and saucers (service for eight)-it was a bargain.
The set is in excellent vintage condition. The handpainting is stunning and it is heavily laden with a wide gold edge trim. Interesting enough this set is a mix and match: the cups and saucers are marked "WITTELSBACH GERMANY, HANDPAINTED" while the plates are marked "LS&S Carlsbad Austria".
The Wittelsbachs' porcelain collections are among the most important royal porcelain collections in the world.
House of Wittelsbach
The history of Porzellan Manufaktur Nymphenburg is linked to the royal Bavarian Wittelsbach family. In 1747, Elector Max III Joseph set up the electoral porcelain manufactory at his "Grünes Schlössl" in Neudeck near Munich.
Porcelain – "white gold" – was at the time regarded as one of the most valuable and desirable luxury items and was adored and admired almost as much as relics and jewels. Porcelain was the epitome of courtly cultivation and served highly representative purposes. Accordingly, the Wittelsbach family was at first the main procurer of electoral porcelain – they commissioned both the "Royal Bavarian Service"as well as gifts for befriended electorates and royal families. Each plate, each cup was stamped with the shield of diamonds and the porcelain thus became the electoral export trademark.
Each plate is marked "L.S.&S Carlsbad Austria" (Lewis Straus and Sons) which dates them between 1895-1917.
L Straus & Sons (LS&S) was founded in New York City by Lazarus Straus in 1869, as importers of crockery.1924 it became Nathan Straus & Co, and in the
1930's it closed. In 1874 Nathan Straus (Lazarus' son) convinced the company RH Macy to permit the Straus firm to have a small glass & chinaware department in their store. The first china and glassware to be sold by Macy's.Each plate is signed by the artist "W. Siegert".
It was such a beautiful Spring day, I had to give this porcelain its day in the sun.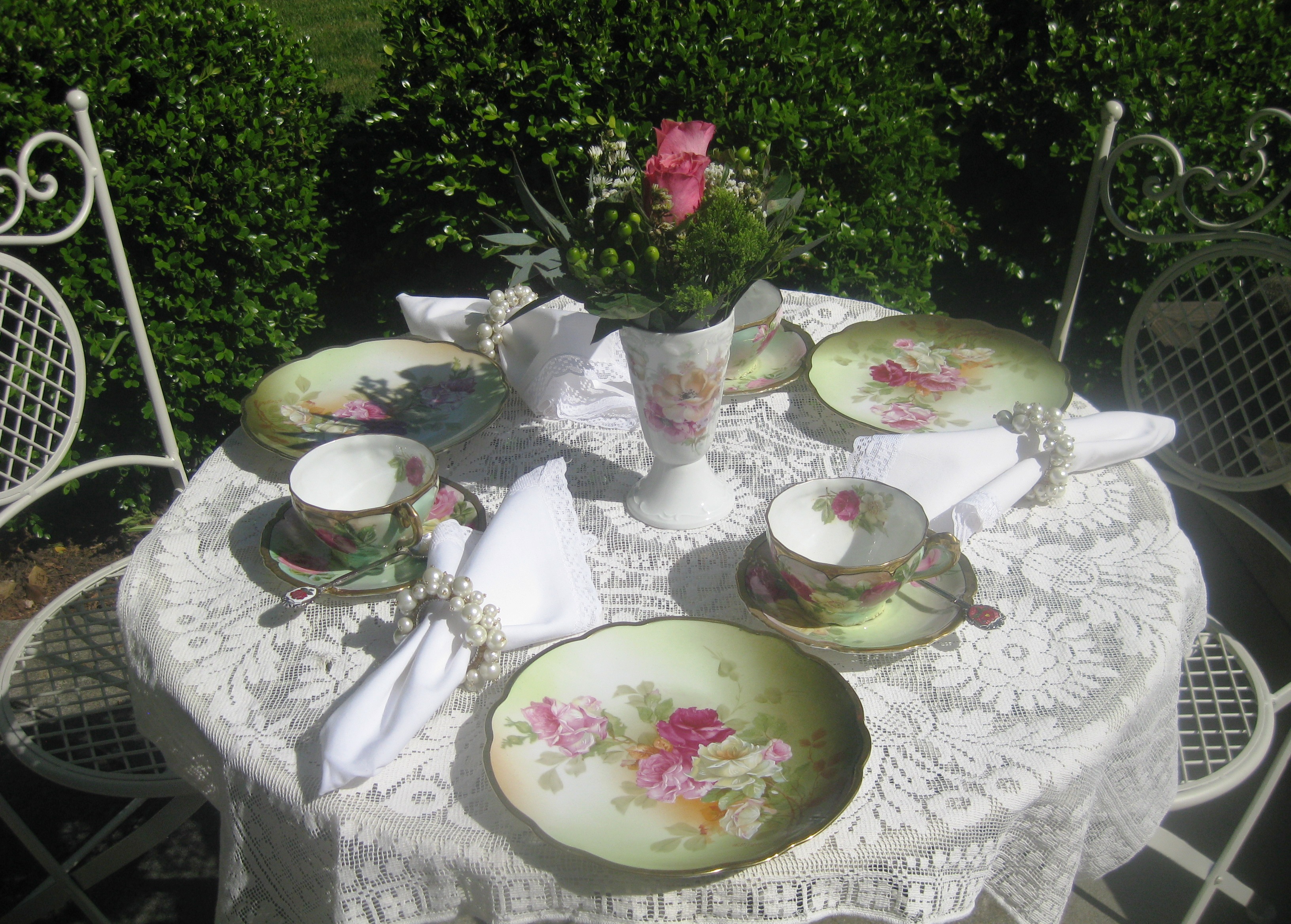 Isn't it just beautiful?!