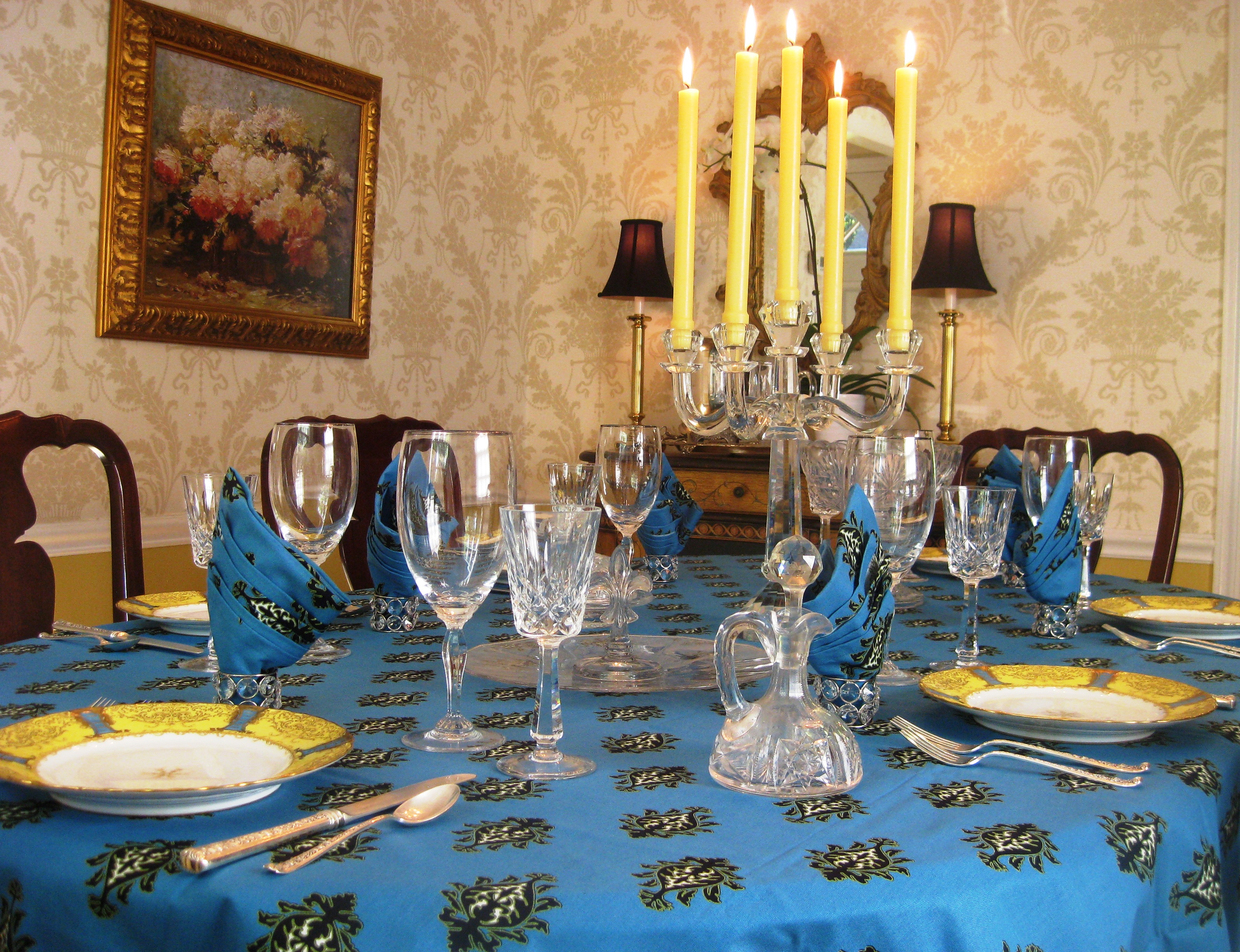 I'm totally hooked on Hen House linens with their bold patterns and rich colors. This pattern is called Salon Delphinium with the same deep sky blue of the delphinium belladonna flower (http://www.henhouselinens.com/s_salondelphinium.php). It is a stunning shade of blue-perfect for a summer tablescape!
I used the "Fountain" Napkin Fold (see directions at the end of this post). The upward cascade of this fold is reminiscent of a shooting fountain. Once folded, the napkin is placed in a napkin ring so that it stands up. The napkin rings were purchased at Macy's.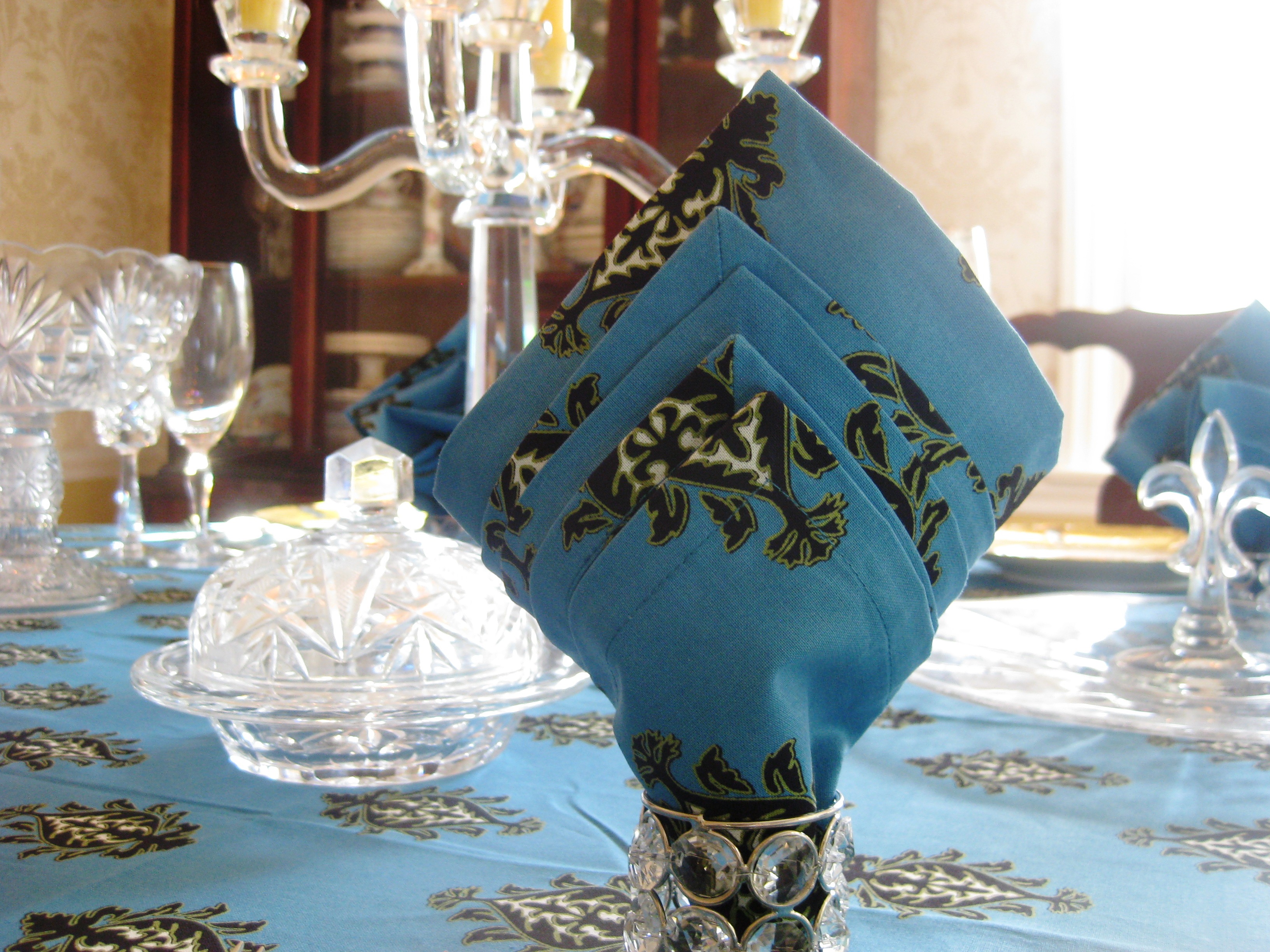 I bought this beautiful set of limoges luncheon plates while antiquing this summer in Cape Cod. I found this set at Demos Antiques Ltd., 447 Main Street, Chatham, MA (1-508-945-1939). I love how the blue and yellow in this limoges pattern coordinate with the linens.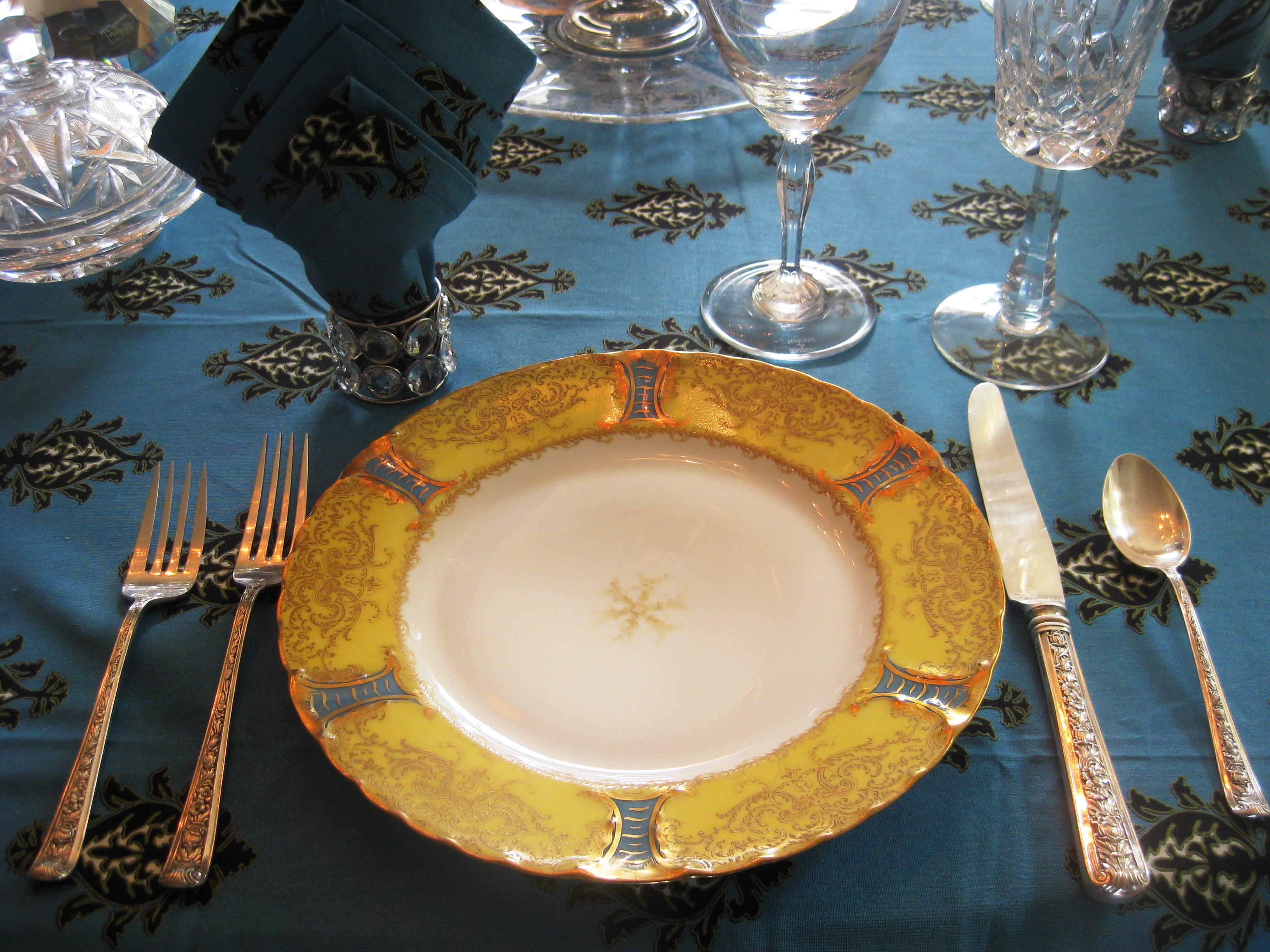 Each plate is marked "H&Co Limoges France/Haviland, made expressly for J.E. Caldwell, Philadelphia". The silver belonged to my husband's grandmother, Wallace Windosr Rose, 1942.
This crystal five-light candelabra is from Godinger (found on One Kings Lane).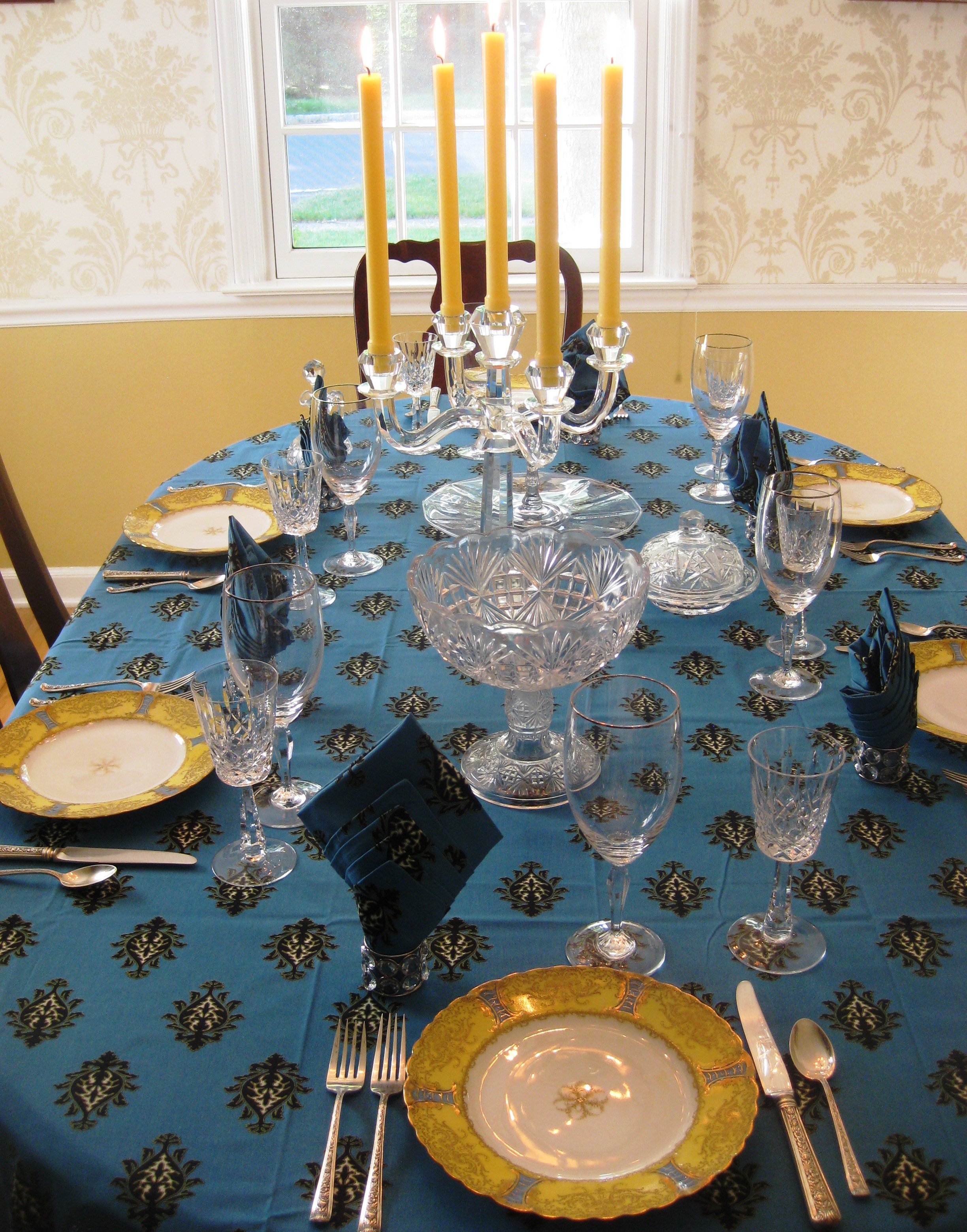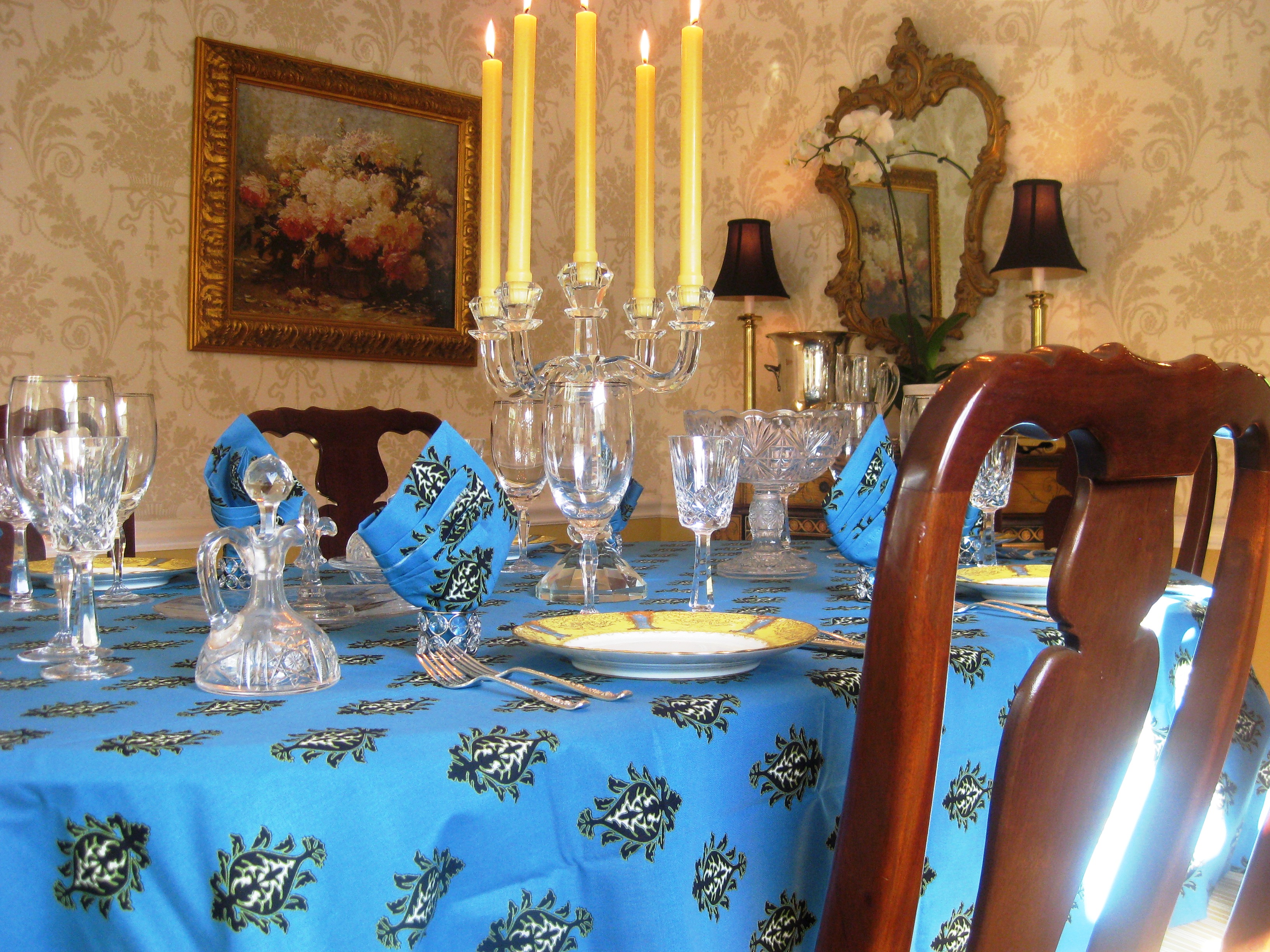 "Fountain" Napkin Fold:
Fold a large, square napkin into quarters.
Working with the free corners at the bottom, fold up the first layer so the point meets the point at the top.
Bring up and fold the next layer so that the point is about an inch below the top.
Continue bringing up the layers and folding them so that they are within an inch or so of each other.
Turn the napkin over, and fold the right side diagonally over the center. Repeat with the left side.
Finally, fold up the point at the bottom of the napkin, turn it over to display the fountain, and place the bottom in a strong napkin ring.
(This is also being posted to http://betweennapsontheporch.net)