I am hosting a Junior League meeting this week at my home for a group of twelve ladies. I am sharing my "buffetscape" set-up for this gathering. I am keeping it real simple with just a few Valentine's Day accents such as a shiny red mercury glass vase and heart-themed linens under the serving pieces. I am using my favorite cake stands and compotes for varying heights to create interest. These are the "before" pictures; I will post the "after pictures" later to include the food served with recipes.
I started with a crimson tablecloth from Crate & Barrel. The centerpiece consists of a red mercury vase from Garden Cottage flanked by two crystal honeycomb votives designed by Orrefors on a vintage linen doily.
I will be serving some of the hors d'houvres and sides on these two crystal cake stands that I received as wedding gifts. This one is from Tiffany's.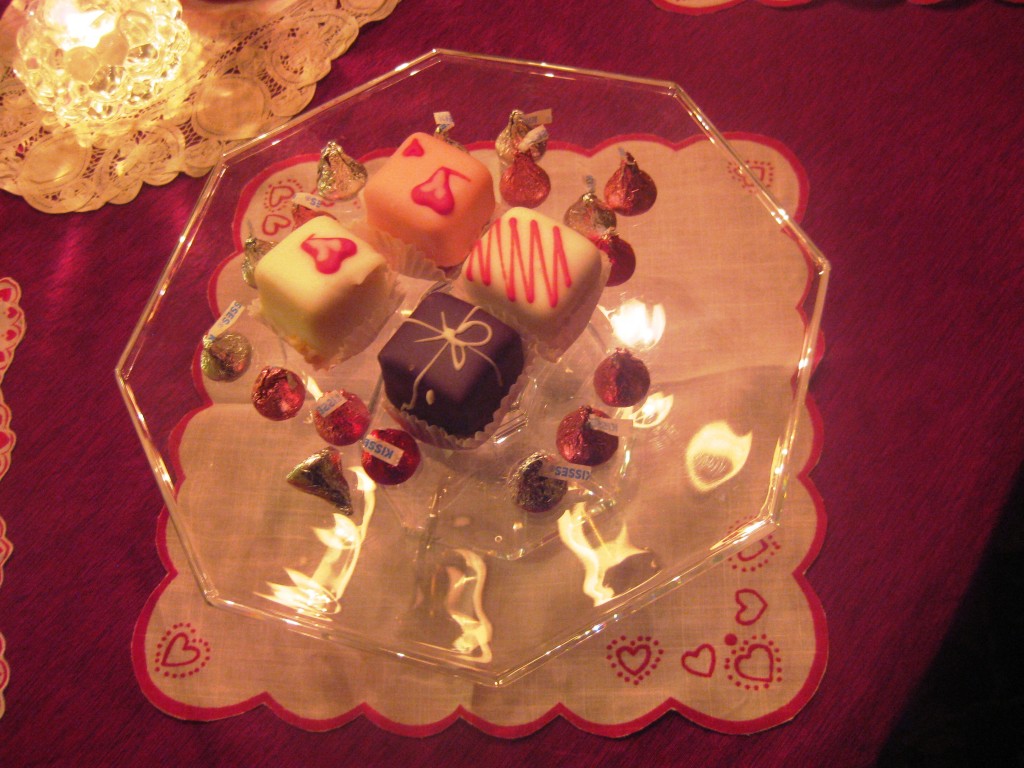 And this one is a William Yeoward engraved cake stand and dome-completely hand made and hand cut.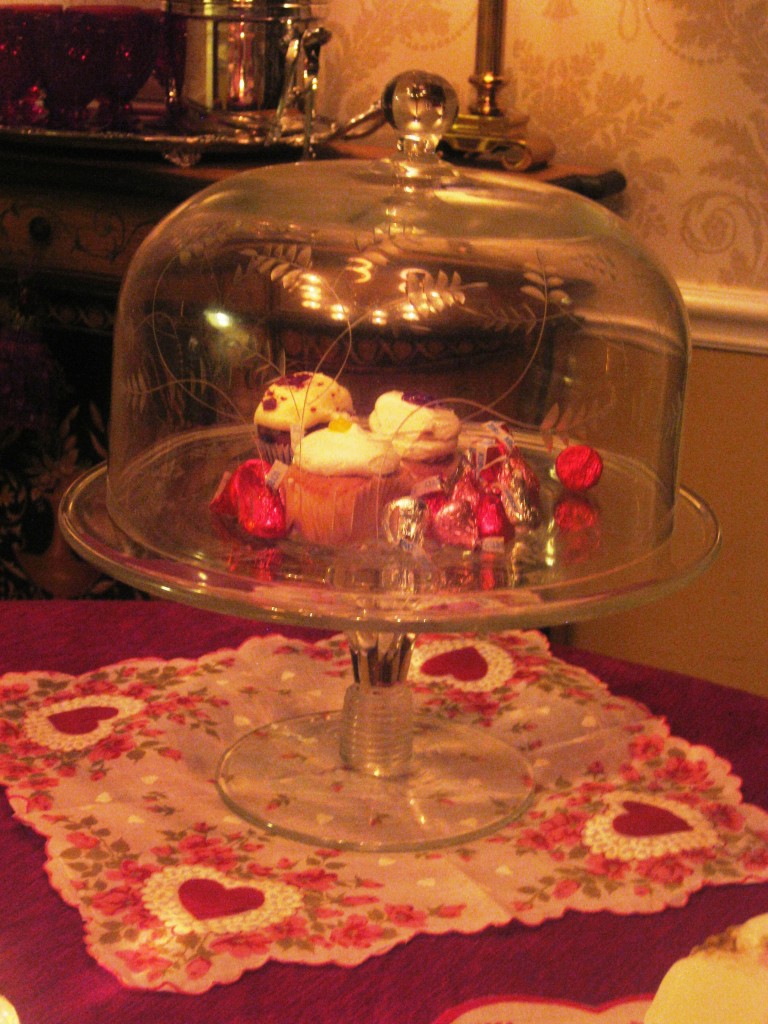 Underneath each serving piece are these vintage Valentine's cloth napkins from Summit Antiques Center and this set of cloth napkins with a handwritten note "Valentine's cloth napkins from Brother Shelby, Phillipines, before the war 1941″.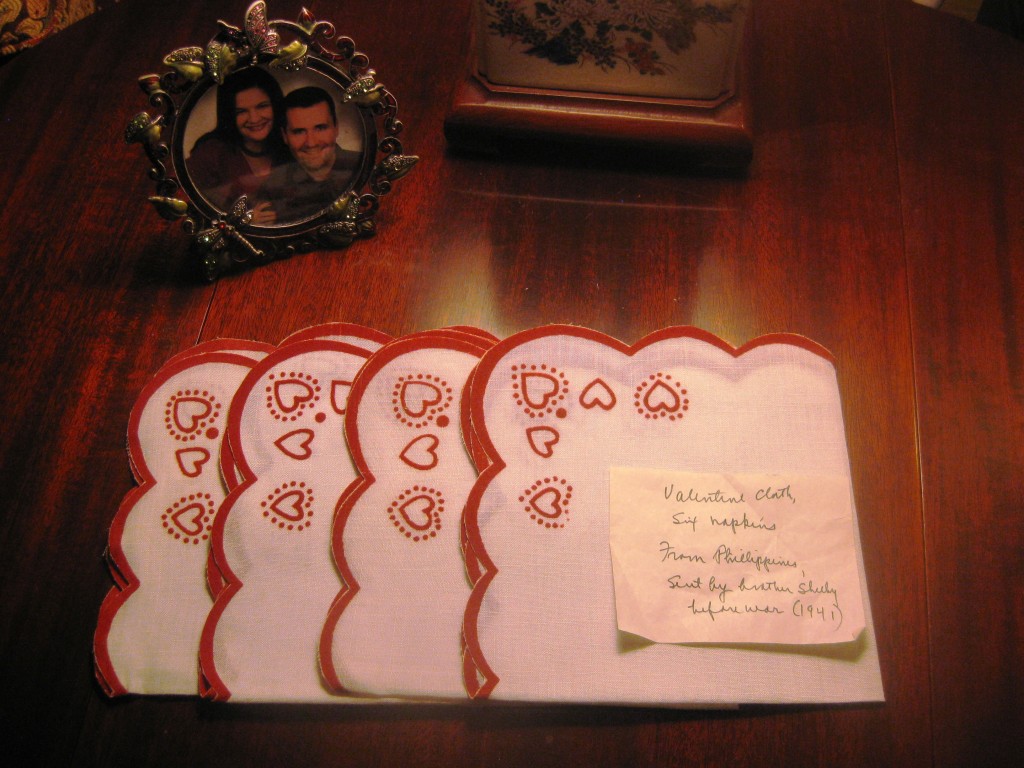 For favors, I selected these red and white polka dot organza bags from beau-coup filled with chocolates.
Silver cutlery is folded into white cloth napkins (Lenox, Opal Innocence) and tied with red organza ribbon.
I followed these instructions for an easy napkin fold for buffets:
Step 1
Place a set of cutlery diagonally on the napkin, leaving about a third of the napkin showing at the bottom. Fold the bottom corner over the cutlery.
Step 2
Fold the left side of the napkin over the cutlery.
Step 3
Fold right side of napkin over cutlery; tuck under.
Step 4
Securely tie the bundle about halfway down with foil garland, raffia or ribbon.  Source: Taste of Home.
I will follow up with pictures of dinner served with recipes. Stay tuned!
February 10th Update:
A good time was had by all last night. Many of you have asked for the main recipes so here you go. Bon Appetit!
Appetizer: Goat Cheese, Cranberry, & Walnut Canapes
Ingredients
24 walnut halves (about 3/4 cup)
4 teaspoons olive oil
1/8 teaspoon ground cinnamon
Coarse salt and ground pepper
24 thin slices whole-wheat baguette, from 1/2 baguette
8 ounces fresh goat cheese
1/2 cup dried cranberries
1 teaspoon chopped fresh thyme, plus leaves for garnish
Directions
Preheat oven to 375 degrees. On a large rimmed baking sheet, toss nuts with 1 teaspoon oil and cinnamon; season with salt and pepper. Bake until golden, 4 to 6 minutes; set aside to cool.
Spread baguette slices on same baking sheet and brush with remaining 3 teaspoons oil; season with salt and pepper. Bake until lightly toasted, 10 to 15 minutes, rotating pan halfway through; set aside to cool.
Meanwhile, in a medium bowl, stir together cheese and 2 tablespoons water until smooth; stir in cranberries and thyme. Season with salt and pepper. Divide goat cheese among bread slices and top each with a walnut and thyme leaves.
Main Dish: Chicken & Rice Casserole
Ingredients
6 chicken breast (cubed and cooked)
1 cup rice (cooked)
1 cup chopped celery (cooked)
2 tbsps onions (chopped)
3/4 cup margarine
10 1/2 ozs cream of chicken soup
1 cup ritz cracker (crushed)
1/4 cup sliced almonds
2 tbsps margarine (melted)
Directions
Mix the ingredients and refrigerate overnight.
Preheat the oven to 350.
Mix the topping ingredients and sprinkle over chicken mixture.
Bake for 25 min. Serve.
Side Dish: Cranberry-Pomegranate Jelly Mold
Ingredients
4 envelopes (1/4 ounce each) unflavored gelatin
1/2 cup sugar
2 cups pomegranate juice
2 cups white cranberry juice
Directions
In a small saucepan, sprinkle gelatin over 1 cup cold water; let soften, 5 minutes. Place over low heat, and cook until gelatin has dissolved, 3 to 4 minutes. (When rubbed between your fingers, it should feel smooth.) Add sugar, stirring gently until dissolved, 2 to 3 minutes; remove from heat.
Transfer gelatin mixture to a medium bowl; gradually stir in juices. Pour into a 1 1/2-quart (6-cup) Bundt pan, and skim any foam from surface. Refrigerate until firm, at least 3 hours and up to 1 day.
To unmold, dip bottom of pan (do not submerge) briefly into hot water; invert onto a serving platter, and shake firmly to release. Serve.