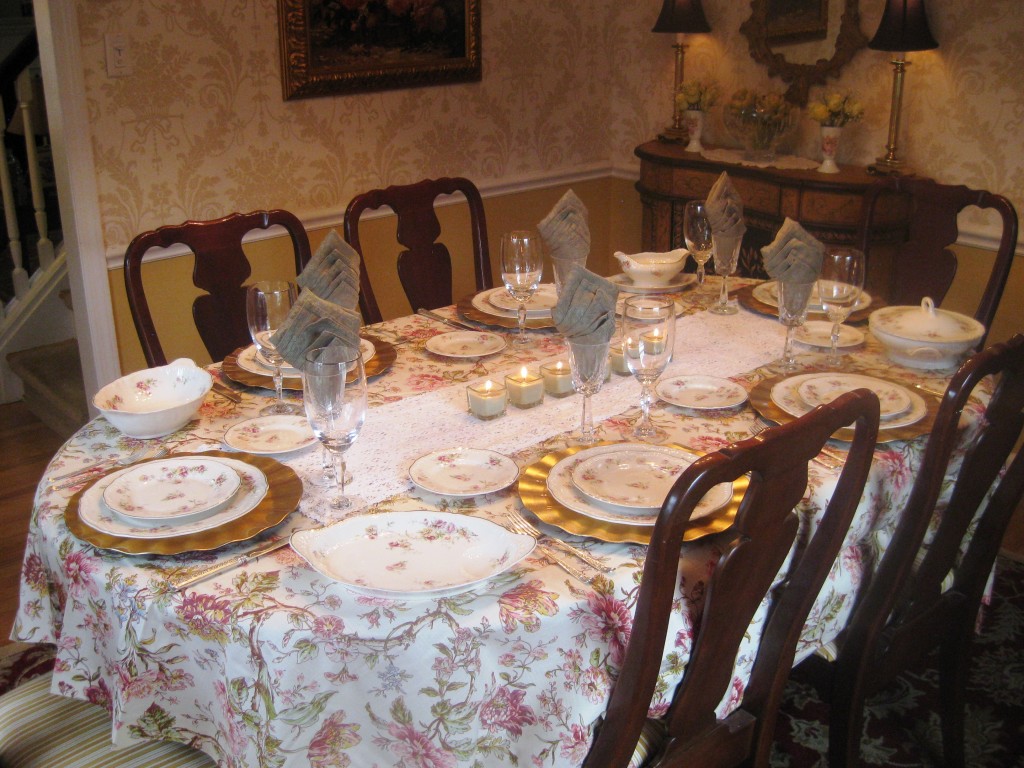 This week's table setting is all about this floral tablecloth. I love this romantic pattern and the visual texture it creates-it is from www.RedRoosters.com and the pattern is called Adella. The sage green Ralph Lauren napkins are from Home Goods and I used a napkin fold called "Fountain" (instructions below).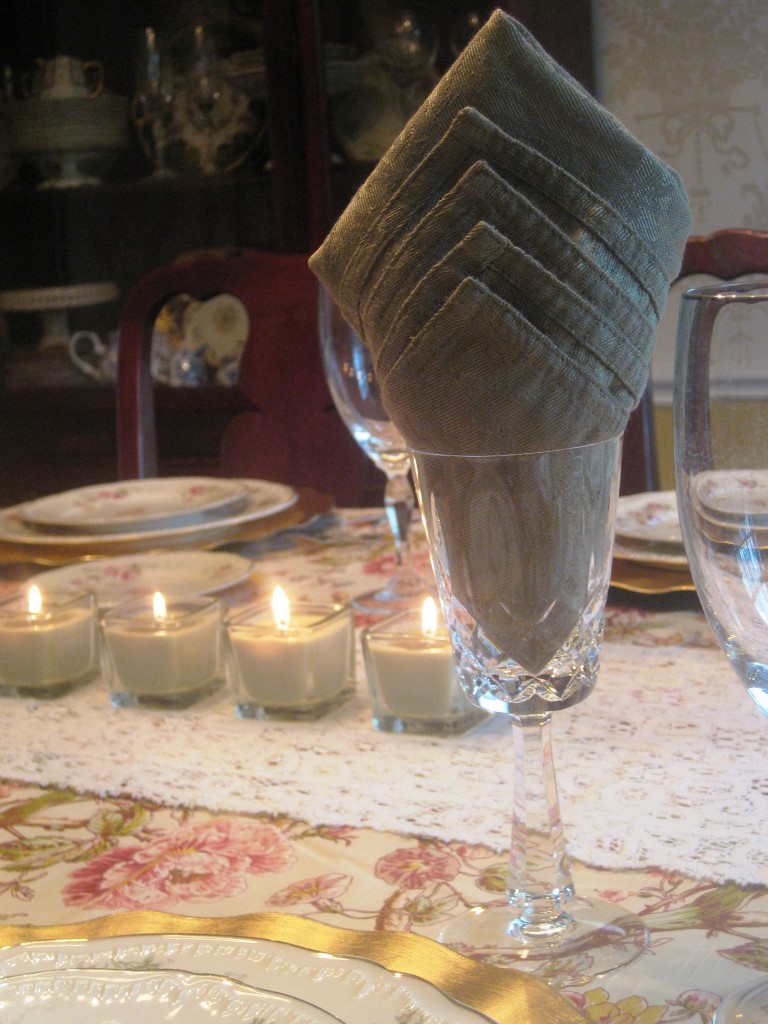 I kept the centerpiece simple with an antique runner (Grand Bazaar Antiques) and sage green votives (HomeGoods) that are low so as to no get in the way of the dinner conversation!
For the place setting , I chose this beautiful vintage dinner service of fine china from Theodore Haviland of New York. The set is decorated with sprays of pink and yellow briar roses on a cream colored background, with a gold rim. The blank used (i.e. the pottery shape) is #300, also called "Romeo," which has a scalloped rim and delicate raised molding just inside the rim. The pink rose flower pattern is identical to that used on the popular Theo Haviland pattern "Dorset." It differs only in having a cream rim and white center, instead of cream throughout, and using a different shaped blank. The back of each piece is marked "Theodore Haviland New York Made in America". The silver, 1942 Watson Sterling silver Windsor Rose, belonged to my husband's grandmother.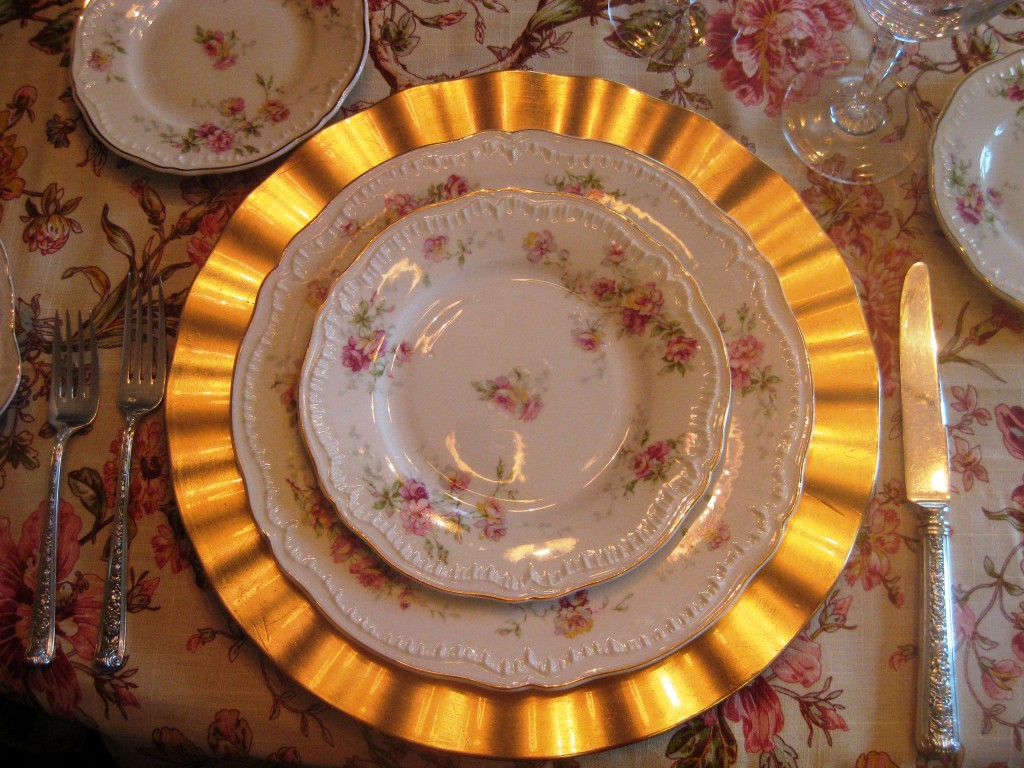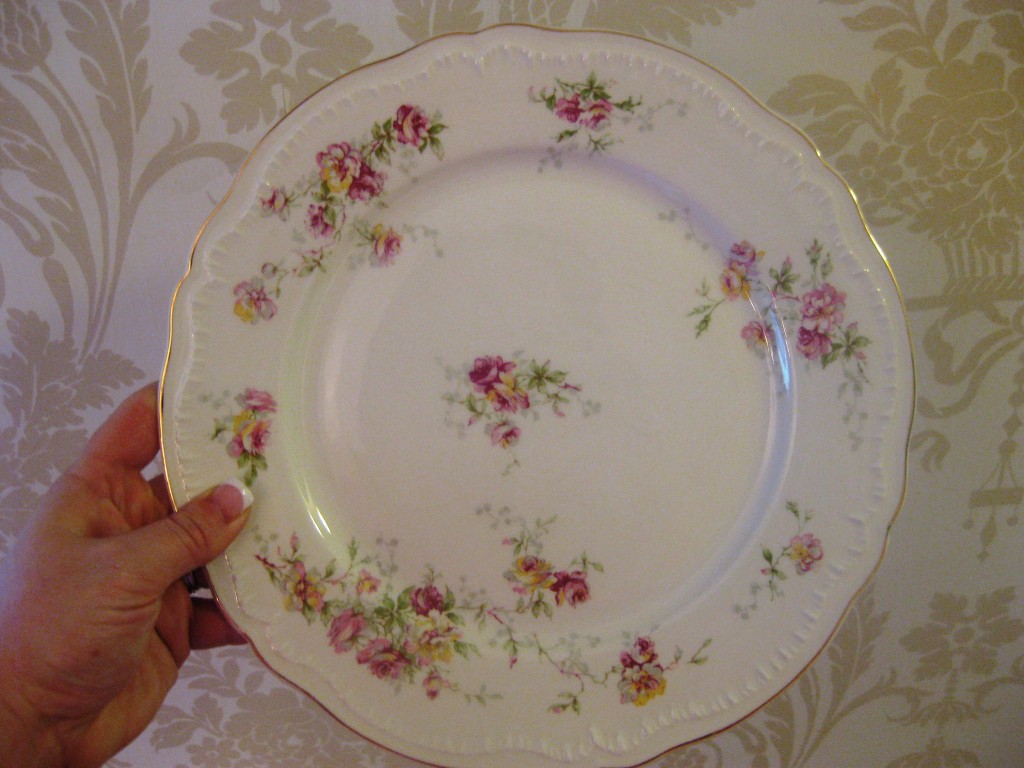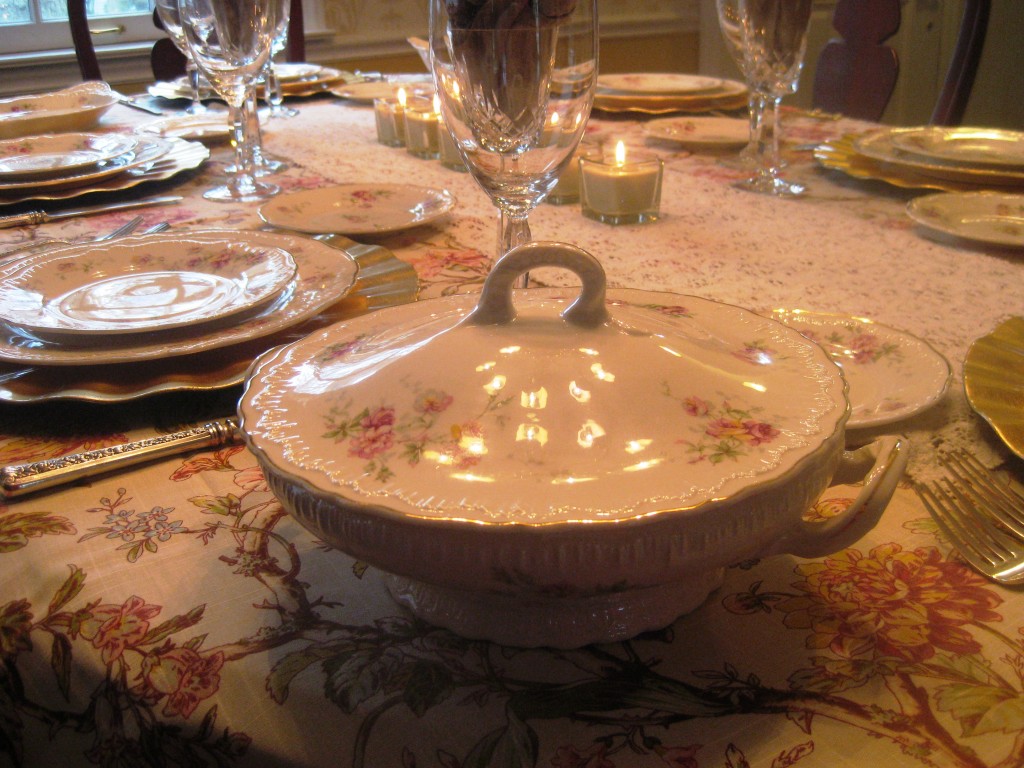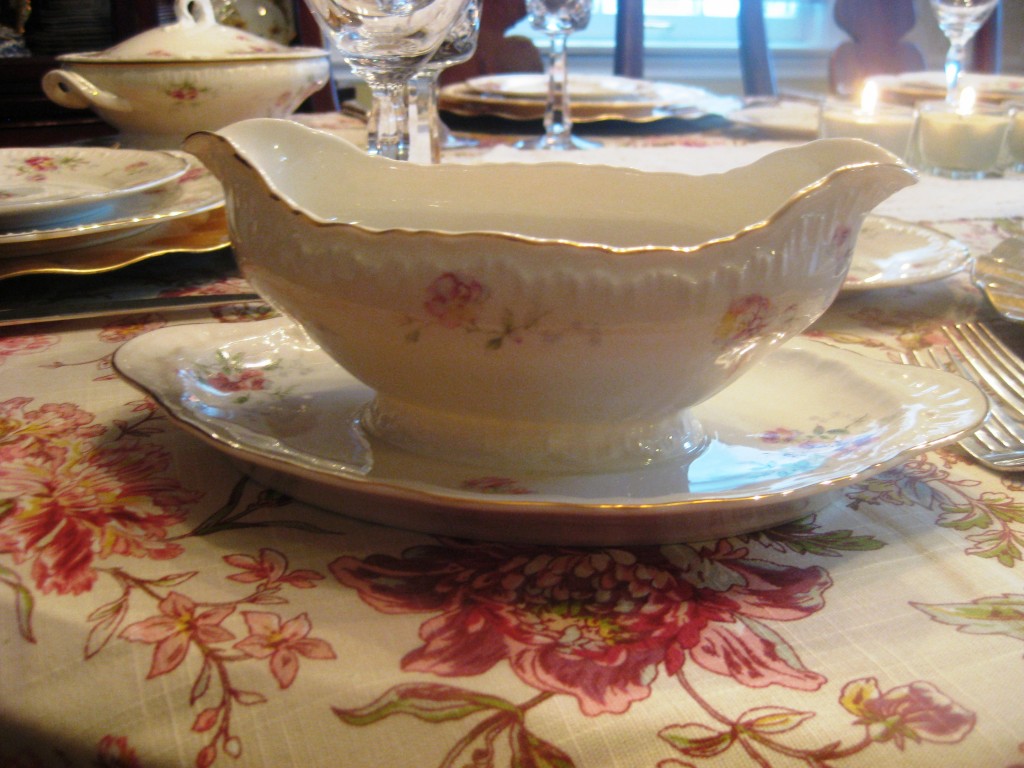 On the console, I filled two porcelain vases with light green roses. I purchased the vases on my one year wedding anniversary to Paris at the flea market in Porte de Clignacourt. They are well marked on the bottom with the mark from Goumot-Labesse Limoges, Made in France (c1955).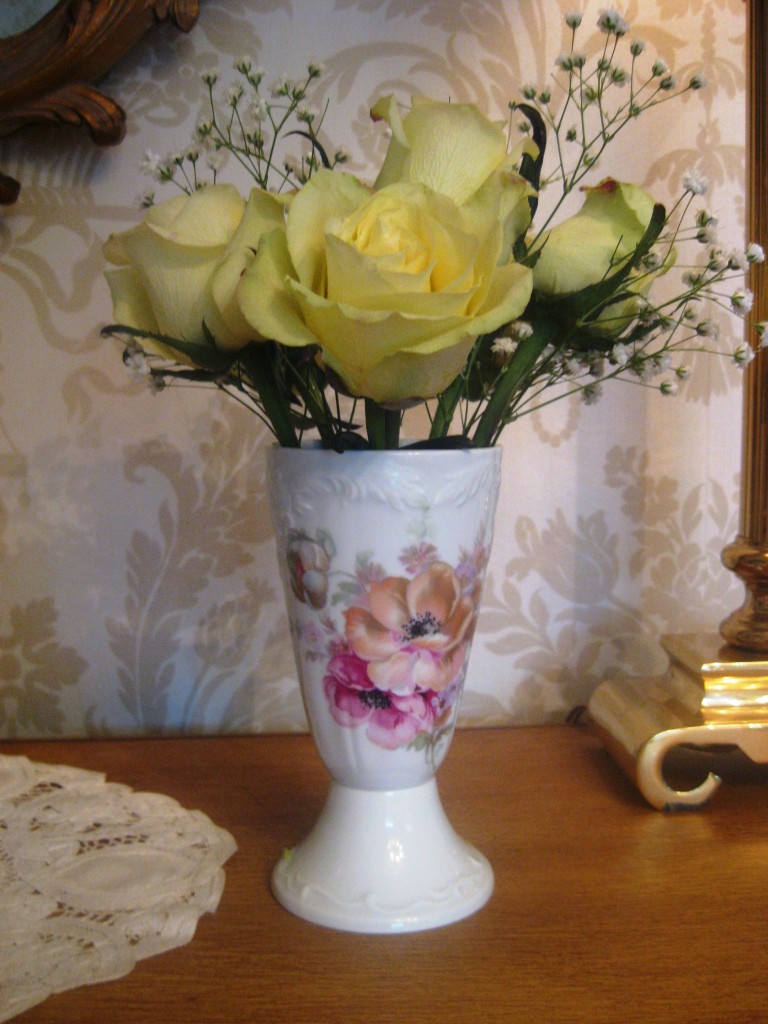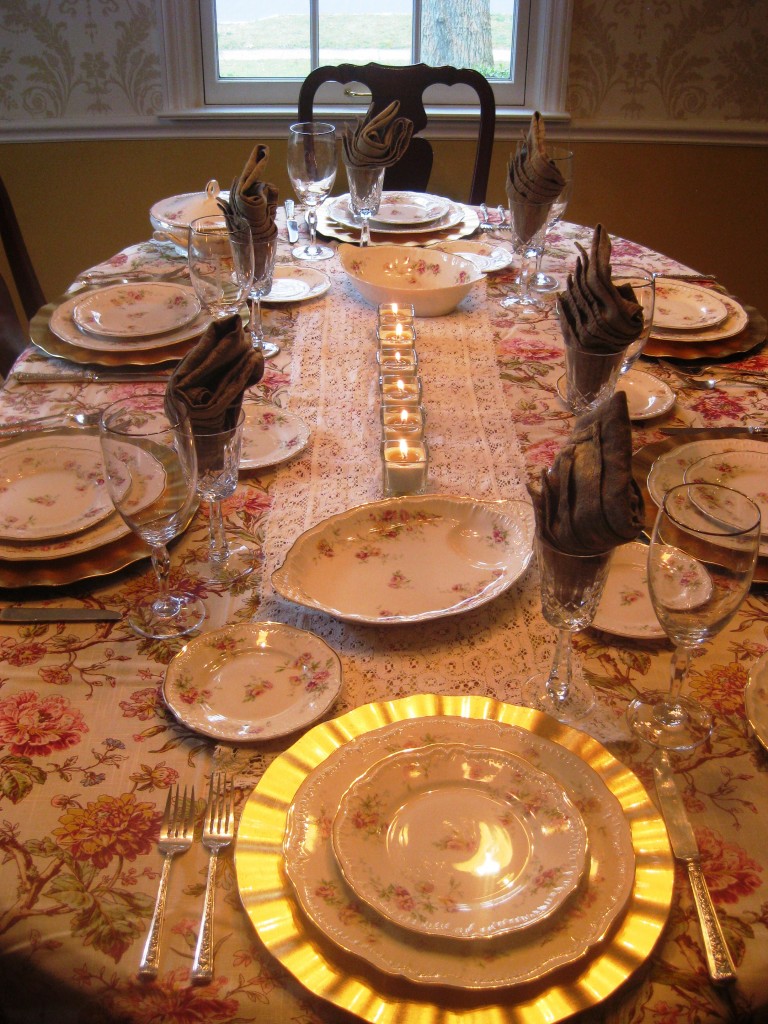 "Fountain" Napkin Fold: The upward cascade of this fold is reminiscent of a shooting fountain. Placing it in a napkin ring of glass so that it stands up lends additional grandeur.
Fold a large, square napkin into quarters.
Working with the free corners at the bottom, fold up the first layer so the point meets the point at the top.
Bring up and fold the next layer so that the point is about an inch below the top.
Continue bringing up the layers and folding them so that they are within an inch or so of each other.
Turn the napkin over, and fold the right side diagonally over the center. Repeat with the left side.
Finally, fold up the point at the bottom of the napkin, turn it over to display the fountain, and place the bottom in a strong napkin ring.