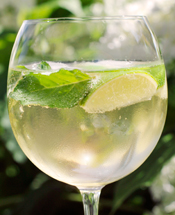 I was introduced to this bubbly treat on a business trip to Frankfurt last week and I have been raving about it since. It is called "Hugo", a popular new cocktail-especially in the Alps-and has been working its way up through Europe from its birthplace in Alto Adige in Northern Italy. By using elderflower syrup, Hugo has a light sweetness which is emphasized by the fizzing, sparkling bubbles of prosecco. Elderflower syrup is available at all IKEA stores and online at L'Epicerie.
Cocktail Hugo Recipe:
2 cl (slightly less than 1/2 a shot or 1-2 tbsp) elderflower syrup
10 cl (half of a glass) of Prosecco
2 or 3 mint leaves, rubbed to release the oils
one ice cube
Optional:
Splash of soda or sparkling water
Slice of lemon or lime
Directions:
Pour the syrup into the Prosecco and drop the mint and ice cube in. Top with sparkling water and lime, if desired.
Viva elderflowers and prosecco!