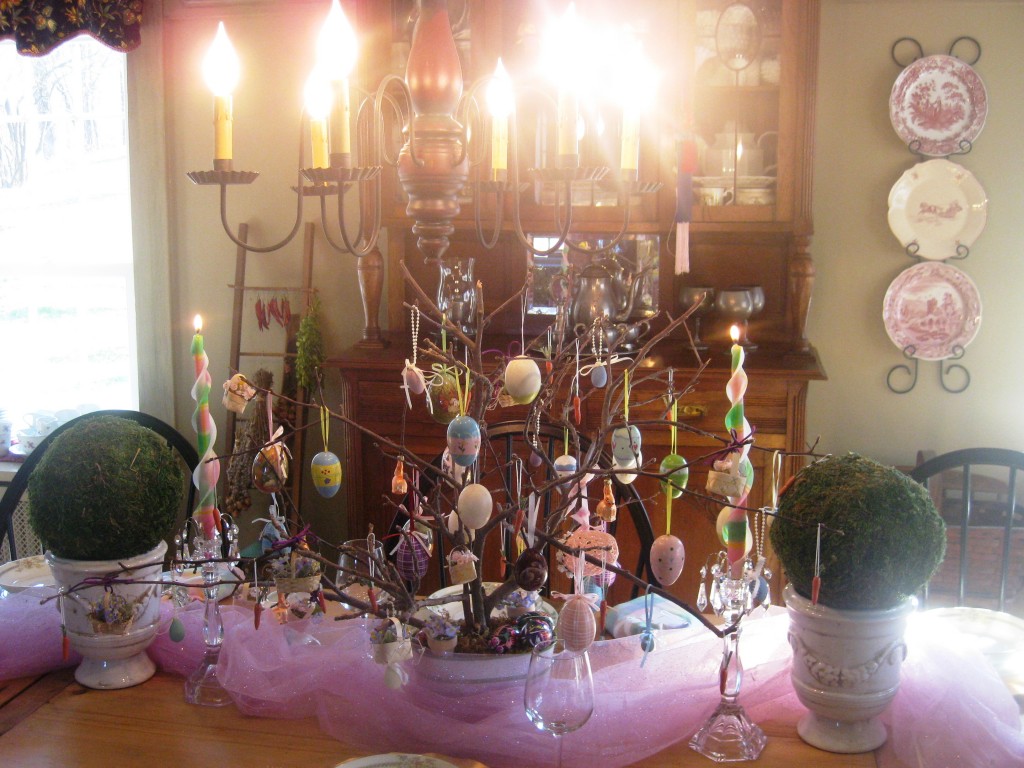 My dear friend, Sharon and her husband Paul invited me and my husband over for dinner recently and offered me the opportunity to decorate their table for this week's post. I was absolutely delighted about the change of scenery, especially because I adore their historic home which is 272 years old! So I share with you this whimsical Easter table setting combined with some interesting history about their lovely home. What a treat for this tablescaper!
About the Tablescape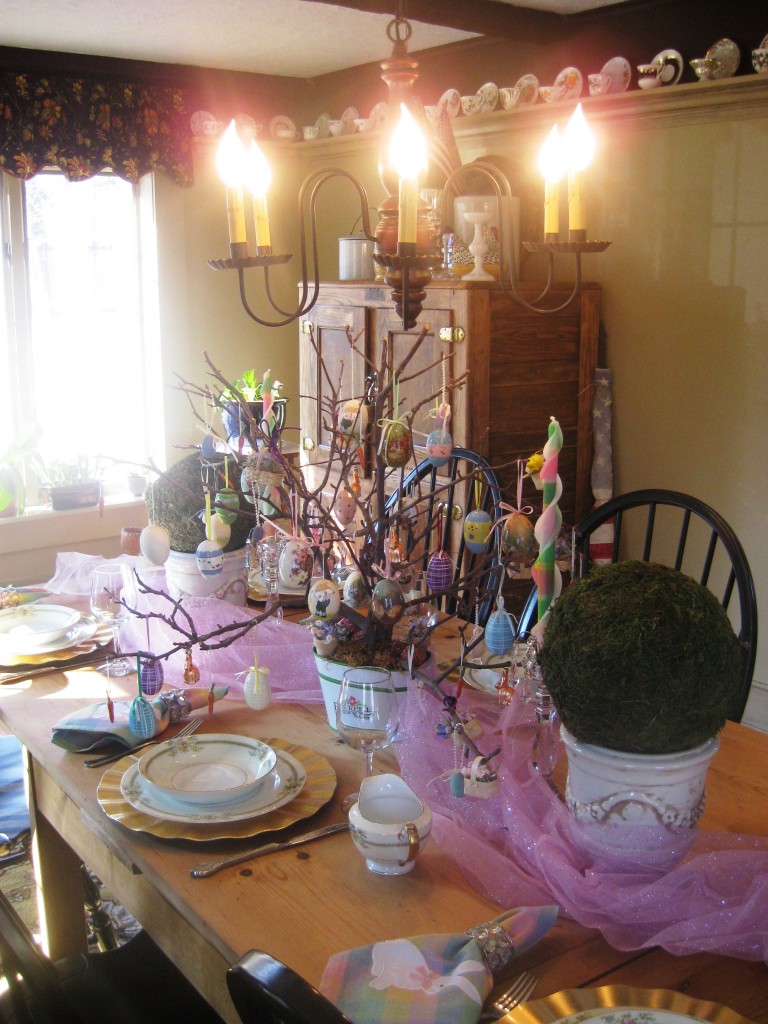 This table setting began with this beautfully adorned homemade Easter tree centerpiece which is flanked by two cache pots holding moss spheres (from Home Goods). Even though I love layering linens, I thought this table was too pretty to cover, so instead of a tablecloth or runner, we opted for this glittery pink tulle. We draped this tulle around the centerpiece and these cute bunny statues (from Sharon's collection).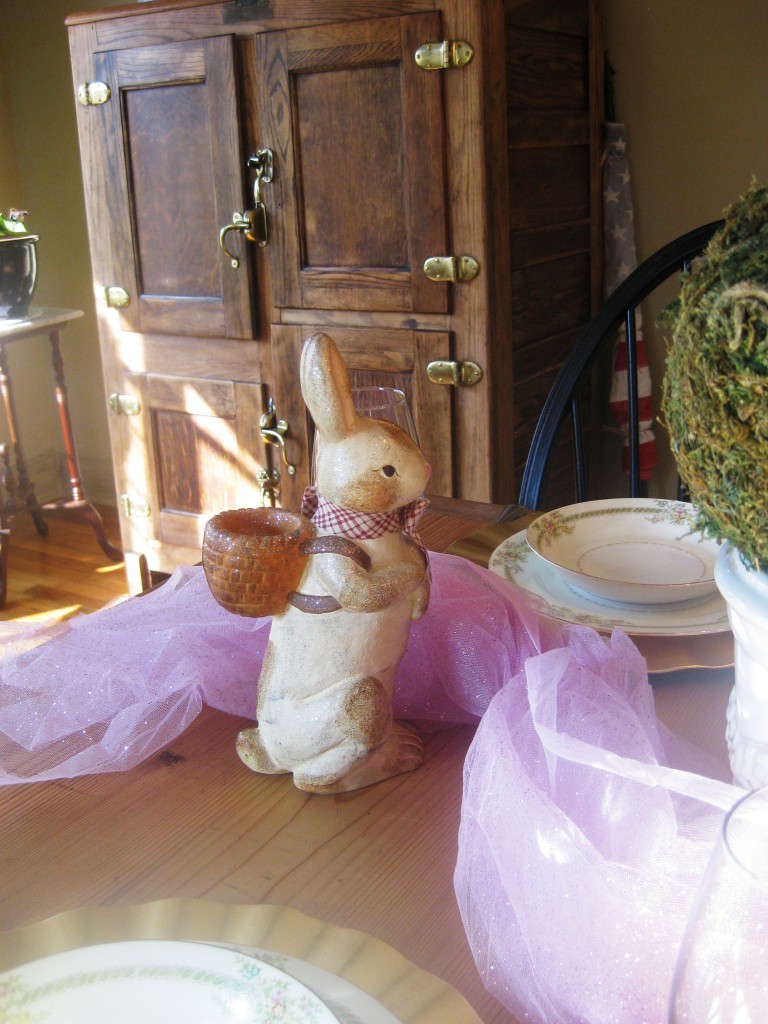 We also added these TIffany's crystal candlesticks (purchased at Summit Antiques Center) accented with dangling crystals (from Sharon's collection) and these Easter plaid tapers from Del Mar (purchased at Cachet).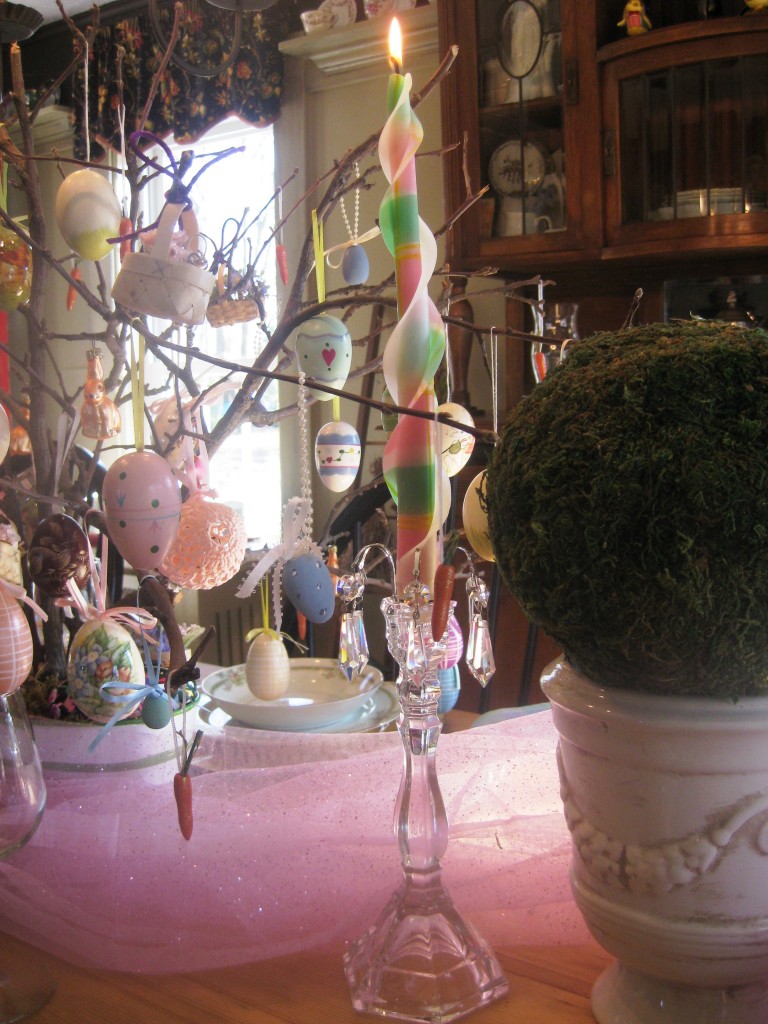 For the place setting, we layered Sharon's floral trimmed vintage Meito china on gold melamine chargers. The soft yellow, green, and pink in the floral pattern is perfect for Spring. And Sharon uncovered these precious bunny-themed pastel plaid napkins (napkin rings are from Macy's).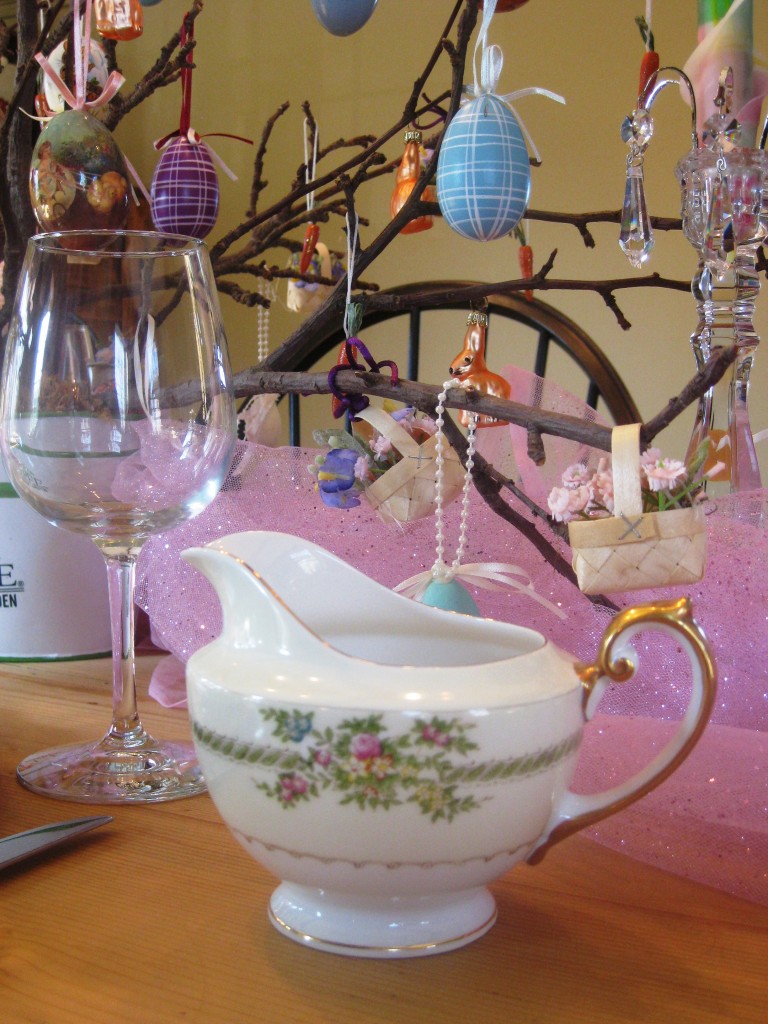 I could not resist capturing a few pictures of the other treasures in Sharon's dining room such as her collection of antique cups and saucers around the perimeter of the room and these antique French cabinets.
About this Historic Home
Sharon and Paul are the owners of The Billie and Donald Burr House on Schooley's Mountain Road in Washington Township, NJ. Many travelers have gone by including George Washington who noted in his diary that he considered the route from "Dutch Valley to Schooley's Mountain a hazardous and round about thoroughfare". From early settlers on their way west, to Civil War soldiers, to the well-to-do visitors to the resorts, to the present day residents commuting and shopping, quite a representation of life has gone by.
The central secion of this stone house was built around 1740. The front door opens to what was the kitchen, evidenced by the large fireplace used for cooking. The living room has two fireplaces and notches in the beams indicate that it used to be at least two rooms. Most likely one was a borning room – a private place where mother and new child kept warm near the fire. There are two "Jersey Winder" staircases and the home features old beams throughout.
The actors Billie and Donald Burr lived here from the 1940s through the 80s. Donald starred in "Annie Get Your Gun" and Billie (aka Wilhemina Lush) was the stand-in for Mary Martin in "Peter Pan". They frequently entertained and Bob Hope, Lucille Ball, Desi Arnaz, and Merv Grifin were among their many guests. Their estate included a swimming pool, tennis court, and a horse ring that was used by their daughter, the Olympic Gold medalist Leslie Burr Howard.
Today, guests are greeted warmly by Cody the dog and enjoy Sharon and Paul's generous hospitality.