For the woman who is on the move with little time for elaborate recipes, this one is for you. These yummy, bite size treats are ready in less than 20 min and can be prepared in advance of your party.  (source: Southern Living)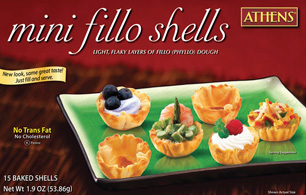 Ingredients:
1 (1.4-ounce) package crispy pastry shells (I use Athens mimi fillo shells)
1 (4-ounce) goat cheese log, crumbled
1/3 cup refrigerated bruschetta topping or tapenade
Garnish: fresh thyme leaves
Preparation:
Place shells in a shallow pan. Divide goat cheese evenly between shells, pressing gently to fill bottom of each. Spoon 1 teaspoon bruschetta topping into each shell.
Bake at 350° for 4 to 5 minutes or until thoroughly heated. Garnish, if desired.
Pesto-Goat Cheese Cups: Substitute 1/4 cup prepared basil pesto for 1/3 cup bruschetta topping. Proceed as directed, omitting thyme leaves. Top with finely chopped tomato and toasted pine nuts after baking.
Enjoy!