I kept it simple this week for a small ladies luncheon. The tablecloth is seafoam green from Ralph Lauren (Home Goods). The raspberry, gold, and green plaid placemats are from Etsy.
For the centerpiece, I chose a small Waterford cut crystal vase filled with a bouquet that coordinates with the colors of the linens flanked by two lower vases filled with a few pink gerbera daisies. The candlesticks are also Waterford crystal and the tall pink tapers are from Creative Candles.
For the place settings, I layered pink and gold Limoges luncheon plates (see prior post, "Pretty in Pink Limoges") on top of pink rimmed dinner plates (Remington) on top of gold melamine chargers with ruffled rim (Horchow). I chose a special napkin fold called Fan-Dango tied with gold ribbon. The silver, 1942 Watson Sterling silver Windsor Rose, belonged to my husband's grandmother.
Fandango Napkin Fold-Instructions:
The Fandango is actually a folk dance dating to 16th-century Portugal. You can impress your guests with this fun fact while they marvel at the festive napkin on their plate! This fold comes to life depending on what you use to secure it in the middle:
Working with a large, square napkin, fold the top down and the bottom up so their edges meet in the center.
Starting on the left or the right side, create an accordian pleat along the narrow length of the napkin.
Once the napkin ring or other decorative tie is in the middle, fan out the sides to bring it to its full beauty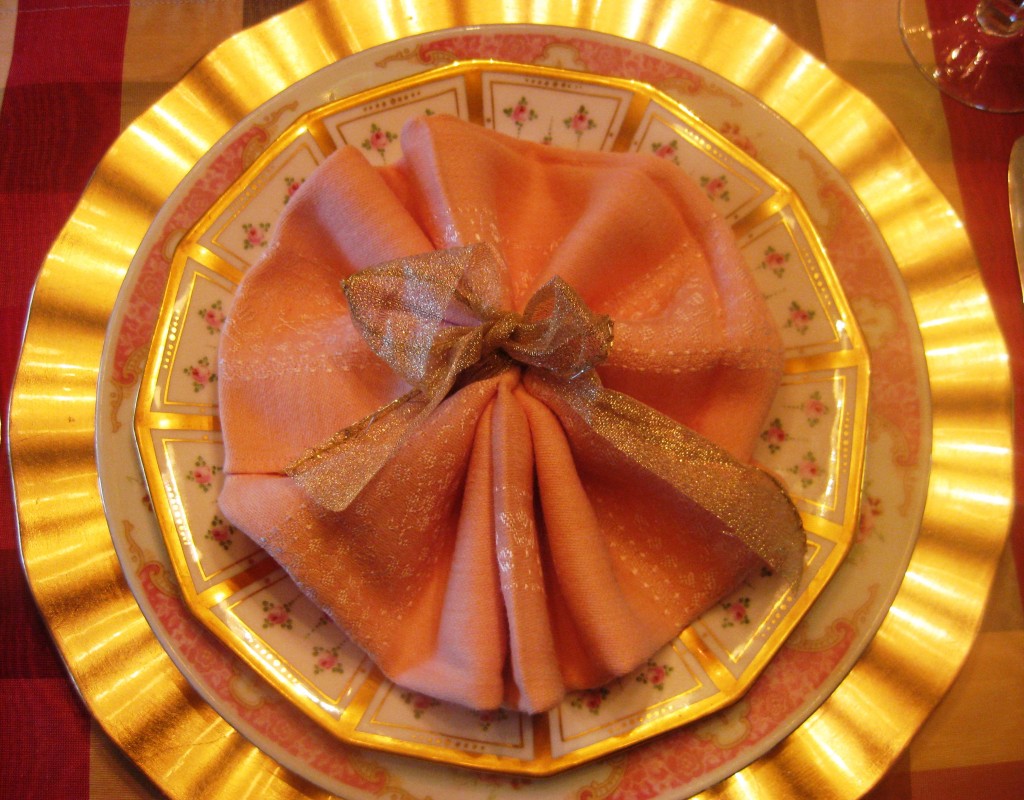 I included three clear glass serving pieces-two feature alot of beading (from Grand Bazaar Antiques) and the third is a pretty depression glass piece (Summit Antiques Center).